Thinking of getting a pilot's watch? Consider the Bremont watches from the United Kingdom. Bremont is a relatively new watch brand from the U.K. by brothers Nick and Giles English. Both are professional aviators who have a passion for wrist watches.
Their latest watches are a joint venture between Bremont and Martin-Baker. Who? Martin-Baker, the world's longest established and most experienced manufacturer of ejection seats. For over 60 years, Martin-Baker has saved over 7,283 aircrew lives in more than 93 Air Forces.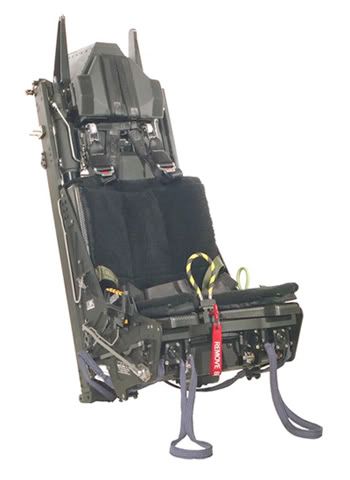 The Bremont MB1 watch (the MB2 will follow later on) has to go through the following tests by Martin-Baker:
1. Catapult phase 12 - 15G
2. Rocket motor 12 - 15G
3. Drogue Stability 30G (600kt sled test)
4. Parachute deployment 15G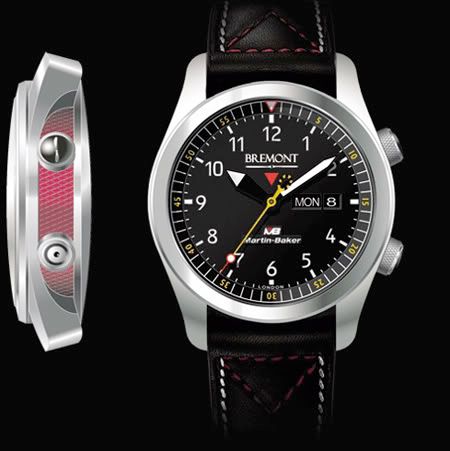 Furthermore, this watch will only be available to those who have ejected a Martin-Baker seat. Your ejection number will be engraved in the caseback of the MB1 watch. At first I thought this probably had something to do with the English sense of humour (which I like), but Bremont is dead serious about this. Luckily for the people who have some form of common sense, the MB2 will be available for the less brave buyers as well.
Bremont uses Soprod/ETA movements and have them chronometer certified (COSC = Controle Officiel Suisse des Chronometeres).
Bremont refers to their movements as BE-xx.
These movements are assembled and tested in the watchfactory in Bienne / Switzerland. Unlike the other Bremont watches, the Martin-Baker models will be further assembled in the United Kingdom, making it a 'Made in Great Britain' pilot's watch.
The MB1 and MB2 watch both will feature the same caliber BE-36A movement, as written before, chronometer certified. The
Trip-Tick case design
is, like in the other Bremont watches, also used for these new models. The sapphire crystal is applied with 9 layers of anti-reflective coating as untreated crystals can allow light to reflect back, which has - in most cases - a negative effect on the legibility of the dial.
And the size? 43mm. In my opinion a very decent / acceptable size for a pilot's watch, especially when compared to the vintage looking pilot's watches that a few companies seem to produce these days. However, it is still a bit larger than its obvious competitors, like the IWC Mark XVI, which has a diameter of 39mm.
These watches are delivered on either a leather strap or the so-called NATO canvas strap. The Bremont MB1 watch will become available early November 2009 and has a
£2,900
pricetag. Oh, and an ejection in a Martin-Baker ejectionseat.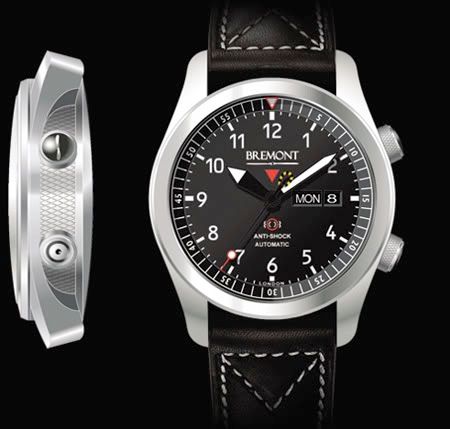 Details on the price and availability of the MB2 are not yet available.